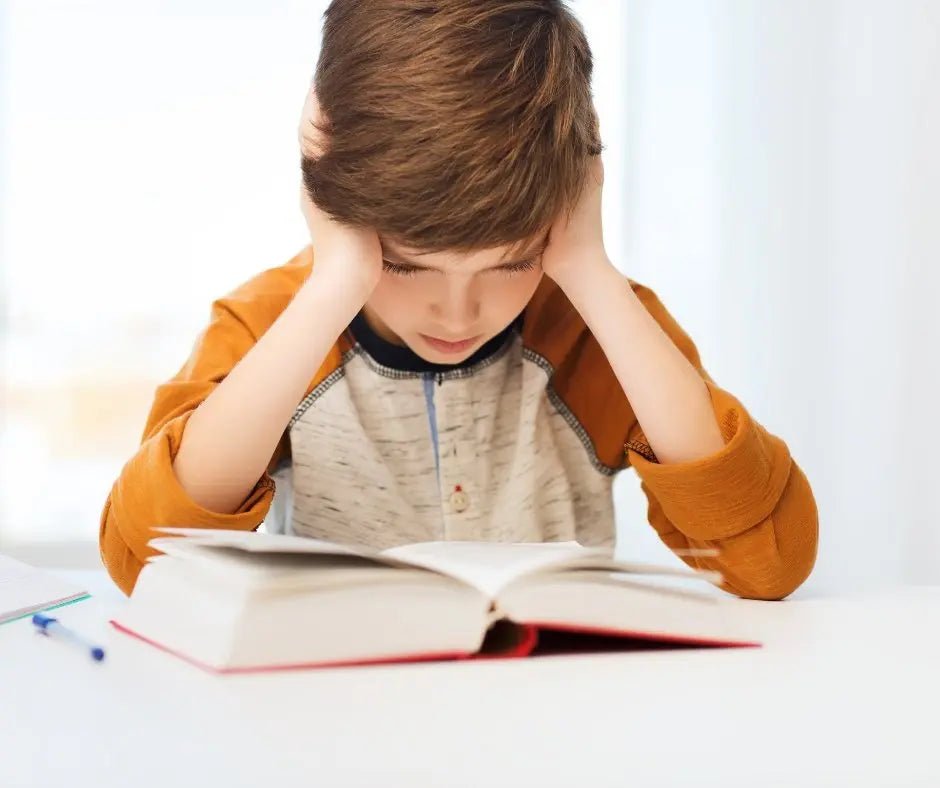 The Surprising Way Hi-Lo Books Can Help Struggling Readers Succeed
Has reading become a sore subject in your household? You're not alone. Many parents have discovered it's more difficult than ever to motivate reluctant readers at home. Luckily, there's a secret weapon at your disposal - hi-lo books. Hi-lo books use publishing techniques proven to engage even the most reluctant readers. In fact, our GHOUL SCHOOL series is a perfect example of this approach. Combining chilling adventures with multimedia features, GHOUL SCHOOL is designed to offer an immersive reading experience that can turn even the most reluctant reader into a book enthusiast.
What are hi-lo books?
High-interest, low-readability books are published with reluctant readers in mind. Less intimidating than a more traditional book, these stories feature short chapters, illustrations, and big fonts that make titles more approachable for young readers. Stories are always in a genre of great interest to the child's age group. Additionally, these titles are typically written at a lower grade level than other books, making them easier to understand so kids are engaged.
How can hi-lo books benefit reluctant readers?
While some parents worry about putting easy reads in front of their kids, these books can be an excellent tool to help boys and girls gain better access to literature while still feeling challenged by the material they are reading. By providing content in a format that's enjoyable for the reader, high-low books can be the spark that ignites a love of reading your kids will carry with them for the rest of their life...
Hi-lo books help boys and girls to build reading confidence and increase their reading level.
Exciting plots and engaging characters motivate kids to push forward and continue reading.
Quicker reads help struggling children build reading fluency and improve their understanding of story structure.
Less intimidating reads can serve as a low-stakes entry point to new genres and subject matters.
Low-readability books save students from feeling isolated in the classroom when they realize they are falling behind.
Improved comprehension and strengthened vocabulary can lead to better grades and more success in the classroom
But more than anything, hi-lo books have the power to pull children away from their phones, encouraging them to build a reading habit that they are likely to carry with them for the rest of their lives.
How to know which books are right for your children
You may find some of the most popular series in your local library fit the description of high-interest, low-readability books. But it's important as parents that we don't just grab the first book we see. Instead, you must...
Determine your child's reading level so you can provide books that match their needs. Teachers are a good resource to help with this task.
Discuss what your kids find discouraging in the books they see on shelves. Knowing what to avoid can be super helpful.
Look into genres your child has enjoyed in the past.
Seek out nonfiction books that cover topics your student finds appealing. Biographies are a great place to start.
Make sure the titles you select are challenging enough to improve literacy in the reader. You may be looking for low-readability books, but that doesn't mean you want your children to just tear through books below their grade level.
Let your children make suggestions. One way to keep a reader's interest level high is to make them feel like they are in charge. While their picks will always find their way to the top of their to-read pile, that doesn't mean you can't throw a few of the hi-lo books you chose into the mix.
Hi-lo books are a great way to get your child excited about reading while working to grow their literacy skills. With some careful consideration and a little bit of help, you can find the books they'll enjoy reading while giving them a deeper appreciation of the magic waiting for them in the library.
What about graphic novels?
Graphic novels can be a sneaky way to put solid hi-lo books into your child's hands. And while some adults are quick to turn up their noses at the idea of comic books, studies have repeatedly shown that graphic novels for kids improve reading comprehension like any other book on the shelf.
Why is GHOUL SCHOOL the ultimate hi-lo book to help your reluctant reader find success?
Combining the best of audiobooks, graphic novels, and traditional prose, Ghoul School is a brand new series that uses proven publishing techniques to engage the most reluctant readers...
Creepy music and Hollywood sound effects highlight a streamable podcast that offers children a read-along experience they will never forget
Low page counts reduce intimidation, promising reluctant readers they won't spend the rest of their lives with their nose buried in a book
Big fonts let readers turn pages faster than normal, giving them the same dopamine hit they get when scrolling through their feeds
Age-appropriate horror improves focus as new scares lurk around every corner
Beautiful artwork on every page helps visual learners build context as the story unfolds
Unexpected endings inspire children to continue with the series so this positive experience become the foundation of a reading habit
Join countless parents and teachers who have watched their kids become avid fans of this exciting new series.
And expect even more to come!
 It's our mission to publish the best hi-lo books for reluctant readers. Come back often, because Ghoul School is only the start.