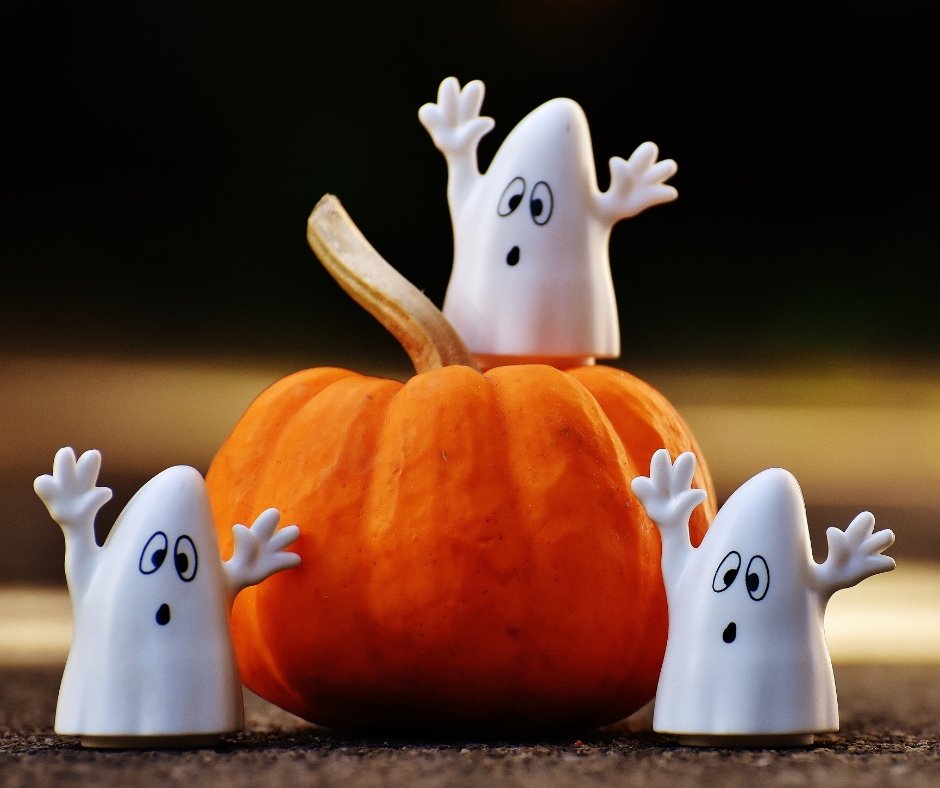 Halloween Books for tweens: Page-Turners to ignite the season
Halloween books provide a unique opportunity to engage reluctant readers by offering captivating stories that align with the holiday's spirit.
Whether it's a classic tale about a haunted house, the pumpkin patch, or a Halloween party gone wrong, horror stories offer parents a chance to remind kids just how fun reading can be.
Halloween Books for Young Readers
These spooky books offer trick-or-treat fun for kids eight and older.
Ghoul School by Devlin DeGuise 
Our brand new series of scary books for tweens uses publishing techniques proven to engage even the most reluctant readers...
Creepy music and Hollywood sound effects highlight a streamable audiobook for an unforgettable read-along experience
Low page counts reduce intimidation
Big fonts let readers turn pages faster than normal, giving them a greater sense of accomplishment
Age-appropriate horror improves focus as new scares lurk around every corner
Beautiful artwork on every page helps visual learners build context as the story unfolds
Unexpected endings inspire children to continue with the series so this positive experience becomes the foundation of a reading habit
Join countless parents and teachers who have watched their kids become avid fans of this exciting new series. Grab your copy today!
The Halloween Tree by Ray Bradbury
This classic tells the story of eight boys on an eerie and unforgettable journey into the past to discover the secrets of Halloween. The book appeals to young readers because it offers an imaginative exploration of the history and origins of the holiday. This is a must read Halloween book for any child who is obsessed with the season. Buy it here.
Scary Stories to Tell in the Dark by Alvin Schwartz
Each volume in this three-book series contains a collection of short stories and urban legends. The creepy illustrations are enough to send a chill up anyone's spine and help bring these scary stories alive in a way that's become iconic. Buy it here.
House of Fear by James Powell and Jethro Morales
Five frightening tales of startling suspense and thrilling adventure. These chilling comic book stories will engross even the bravest of young readers--and empower them with themes of conquering fear and saving the day. Buy it here.
No Place for Monsters
In this spellbinding, lavishly illustrated story, two unlikely friends face down their worst fears in order to stop their small town—and themselves—from disappearing. Buy it here. 
Cabinet of Curiosities by various
A collection of thirty-six forty eerie, mysterious, intriguing, and very short stories by the acclaimed authors Stefan Bachmann, Katherine Catmull, Claire LeGrand, and Emma Trevayne. Perfect for anyone who relishes a good creepy tale. Great for reading alone or reading aloud at camp or school! Buy it here.
The House with Chicken Legs by Sophie Anderson
A whimsical and melancholic fairy tale inspired by Russian folklore, this book follows a girl named Marinka who lives in a house with chicken legs and dreams of exploring the world beyond. Buy it here.
The Jumbies by Tracey Baptiste
This spooky tale set in the Caribbean features a brave girl named Corinne who must protect her island from supernatural beings known as Jumbies. Buy it here.
Goosebumps by R.L. Stine
The series by R.L. Stine offers a wide range of spooky stories filled with suspense and surprises. These books entice readers with their chilling tales and memorable characters, making them perfect for Halloween family reading. Buy it here.
Halloween Books for Middle-Grade Readers
These stories of fear and fright are great for kids ten and older.
Coraline by Neil Gaiman
This modern-day classic captivates readers with its eerie atmosphere and thrilling plot. As Coraline explores a parallel world filled with sinister doppelgängers, readers become engrossed in the story's tension and suspense, perfect for older kids who enjoy spooky stories. Buy it here.
Only if you Dare by Josh Allen
A terrifying collection of short stories that proves even everyday objects in our life can turn against us. From a mysterious microwave oven to a threatening board game to a snowman who refuses to melt in the spring, this book is loaded with stories that to share each night in the lead-up to Halloween. Buy it here.
The Girl Who Drank the Moon by Kelly Barnhill
Winner of the 2017 Newbery Medal, this fantasy novel revolves around a young girl named Luna who must confront powerful witches and her own magic to save the town of the Protectorate. Buy it here.
Halloween Books for Young Adult Readers
You'll find fewer treats in these ghost stories for readers twelve and older.
Miss Peregrine's Home for Peculiar Children by Ransom Riggs
This is an enthralling story that blends the supernatural with mystery and adventure. The novel's unique visuals contribute to its appeal, making it an excellent choice for teens who enjoy horror and suspense. Buy it here.
Slasher Girls and Monster Boys
A host of the sharpest young adult authors come together in this collection of terrifying tales and psychological thrillers. Each author draws from a mix of literature, film, television, and music to create something new and fresh and unsettling. Clever readers will love teasing out the references and can satisfy their curiosity at the end of each tale, where the inspiration is revealed. There are no superficial scares here; these are stories that will make you think even as they keep you on the edge of your seat. From blood horror, to the supernatural, to unsettling, all-too-possible realism, this collection has something for anyone looking for an absolute thrill. Buy it here.
The Screaming Staircase by Jonathan Stroud
In this ghost-hunting mystery, a trio of young detectives must use their wits and supernatural powers to investigate the haunted house known as the Combe Carey Hall. Watch out for the Netflix series based on the book. Buy it here.
Strategies to Encourage Reading for a Happy Halloween
The scary season is a great time to bring kids together for one spooky night and show them just how fun reading can be.
Organize Book Club activities with Spooky Stories and Costumes
Book clubs promote peer discussion and engagement, creating a supportive reading community. In late October, these clubs can be a great to encourage reading, especially when incorporating costumes, candy, and campfire tales. A day that starts with regular book club activities can morph into a Halloween celebration with pumpkin carving and trick-or-treat fun.
Incorporate Halloween Books into your School Curriculum
With kids excited for the holiday, adding Halloween books to school curriculums each fall can make reading more fun for students.
Conclusion
Halloween-themed books provide an opportunity to engage reluctant readers. By using the intrigue of Halloween to introduce children to literature, parents can inspire reading habits that last.