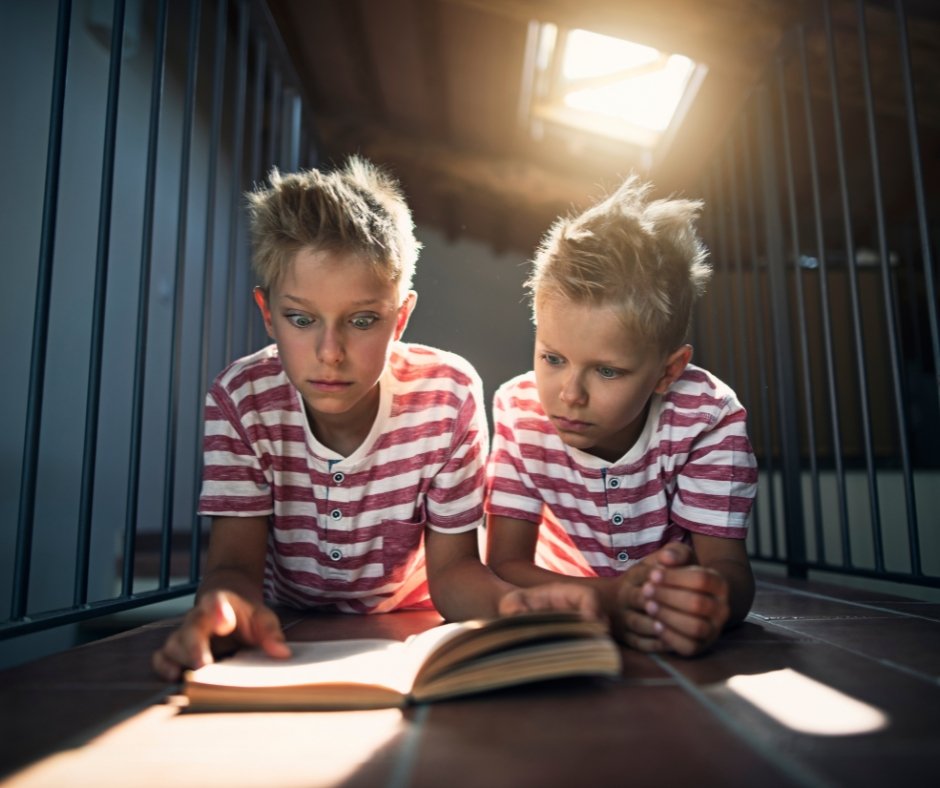 Scary books for tweens: how suspense can spur personal growth
Scary books for tweens have been a staple in children's literature for more than a century. In fact, kids are hungry for suspenseful and spine-tingling stories to capture their imaginations.
From ghost stories to haunting tales of dark magic, these books provide readers with an escape into the unknown. Even better, by introducing children to spooky tales, parents can foster a love for reading in their kids and engage the most reluctant readers in their lives.
Should parents be concerned about turning their children into horror fans?
Parents often have concerns about introducing children to horror, especially when dealing with sensitive topics or fear-inducing scenes. 
Here's the good news:
Finding age-appropriate horror is easy
Publishers offer lots of age-appropriate scary books. Even better, these stories can provide valuable lessons and foster emotional resilience in our kids. By picking books that align with their child's grade level and interests, parents can confidently share these fun scares with their kids.
Benefits of Reading Scary Books for Tweens
Scary books for tweens offer many benefits that can contribute to the development and well-being of young readers. By immersing themselves in spooky stories, middle grade readers can develop emotional resilience, enhance critical thinking skills, and foster creativity and imagination.
Kids face fear in a safe environment
Reading scary stories allows tweens to confront their fears and anxieties in a controlled setting. Whether it's a suspenseful ghost story or a creepy tale set in a haunted house, these narratives provide a safe space for young readers to experience fear and excitement without facing real danger. This exposure helps them build emotional resilience, enabling them to handle challenging situations in real life with more confidence.
Horror often encourages self-reflection and empathy
Scary books often feature characters facing frightening situations or overcoming personal fears. By engaging with these stories, tweens can reflect on their own emotions and learn to empathize with the characters' experiences. This self-reflection can help children develop a deeper understanding of their emotions and strengthen their ability to connect with others.
Young readers learn to analyze complex plots and characters
Horror stories often involve intricate plots and complex characters that challenge readers to think critically. As tweens dive into these stories, they must analyze motives, identify patterns, and make predictions. This active engagement can sharpen critical thinking and problem-solving skills, which are essential for success in school and beyond.
Tweens practice identifying patterns and making predictions
The nature of horror stories often hinges on the reader's ability to anticipate upcoming events. By identifying patterns and making predictions, tweens can hone their analytical skills and learn to think more critically about the world around them.
Scary books for tweens can expand a child's worldview
Scary books for tweens often involve fantastical elements and supernatural themes, such as ghost-hunting adventures or parallel worlds. These imaginative stories encourage readers to think beyond their own experiences, which can foster creativity and expand their worldviews.
Young readers learn creative writing and storytelling skills
Engaging with horror stories can inspire tweens to craft their own narratives, experiment with storytelling, and express themselves through writing. This creative outlet can help them build their communication skills and develop a deeper appreciation for the written word.
By embracing scary books for tweens, parents can provide their children with experiences that will bolster emotional resilience, sharpen critical thinking skills, and foster their creativity and imagination.
Authors teach valuable lessons through spooky stories
Horror books for kids often incorporate valuable lessons about bravery, resilience, and empathy. For example, a story featuring a haunted house may teach the importance of confronting fears. A ghost-hunting adventure might show the power of teamwork and friendship. These themes can have a positive impact on a child's emotional and social development, making them more than just another entertaining read.
Scary books can open dialogue and communication
Parents should strive to maintain an open dialogue with their children about the books they're reading. By discussing story content together, parents can help their kids process feelings while addressing any concerns. It's also a great opportunity to share time with your kids and build a stronger bond. 
Reading is a great way for parents and children to bond
To ensure that your child's foray into horror is a positive experience, take an active role. Select age-appropriate stories, then sit down to read with them. This can be a great way to motivate reluctant readers at home. After all, parents who read are far more likely to raise children who become readers. 
Look for book recommendations from trusted sources, such as teachers, librarians, or trusted online lists. You can also introduce your child to abridged versions of classic scary stories. Books like Frankenstein by Mary Shelley or The Legend of Sleepy Hollow by Washington Irving are a great choices and widely available.
Top Recommended Scary Books for Tweens
Ghoul School by Devlin DeGuise
We are huge fans of the series from our own master of horror, Devlin DeGuise. Ghoul School is a brand new series that uses proven publishing techniques to engage even the most reluctant readers...
Creepy music and Hollywood sound effects highlight an included audiobook that offers children a read-along experience they will never forget
Low page counts reduce intimidation, promising reluctant readers they won't spend the rest of their lives with their noses buried in a book
Big fonts let readers turn pages faster than normal, giving them the same dopamine hit they get when scrolling through their feeds
Age-appropriate horror improves focus as new scares lurk around every corner
Beautiful artwork on every page helps visual learners build context as the story unfolds
Unexpected endings inspire children to continue with the series so this positive experience becomes the foundation of a reading habit
Check out the first book in this spine-tingling series, the tale of a boy who learns a hard lesson when an exotic plant from his mother's collection takes over the house and becomes... the VENUS CHILD TRAP.
Chapter Books for kids
Eerie Elementary by Max Brallier
Published by Scholastic, this series follows the adventures of Sam Graves, a brave student who discovers his school is alive. With the help of his friends, Lucy and Antonio, Sam battles against the evil forces lurking within the school's walls. Each book in the series presents a new spine-chilling mystery, as the trio uncovers hidden secrets and confronts supernatural entities. Packed with suspense and action, the Eerie Elementary series captivates young readers, testing their courage and challenging their problem-solving skills. Buy it here.
Notebook of Doom by Troy Cummings
An action-packed collection about a young boy who stumbles upon a mysterious notebook. The journal contains information about the monstrous creatures that secretly inhabit his town. Alongside his new friends, Alexander forms the Super Secret Monster Patrol (SSMP), a team dedicated to battling these hidden menaces. With each book, the kids encounter new creatures and unearth the eerie secrets of their town. Buy it here.
Spooksville by Christopher Pike
Filled with supernatural occurrences, unexplained phenomena, and mysterious creatures, each volume presents a thrilling quest, where Adam Freeman and his brave friends confront danger and the unknown.
Engaging and suspenseful, the Spooksville series enthralls readers with its imaginative storytelling, unforgettable characters, and spine-tingling mysteries.
Classic Scary Stories
Goosebumps series by R.L. Stine
A staple in the world of scary books for tweens, the Goosebumps series offers spooky tales that are perfect for middle grade readers. Each book features a different suspenseful story, allowing young horror fans to explore various spine-tingling scenarios. Buy it here.
The Graveyard Book by Neil Gaiman
This Newbery Honor Book by Neil Gaiman tells the story of a boy raised by ghosts in a graveyard. With a blend of suspense, humor, and heart, this novel provides a unique reading experience from a master of his craft. Buy it here.
Scary Stories to Tell in the Dark by Alvin Schwartz and Stephen Gammell
A collection of short stories that feature spine-tingling tales, many of which are based on ancient folklore. The series delves into a world of supernatural beings, mysteries, and urban legends.
Should you decide to grab these books, grab copies with Gammell's original illustrations. They're to die for! Buy it here.
Ghost Stories and Haunted Houses
Wait Till Helen Comes by Mary Downing Hahn
A classic ghost story, this book follows a family as they move to a new house and encounter a ghostly presence. Hahn has filled her tale with suspense and mystery, making it a great introduction to the genre for young fans. Buy it here.
The House with Chicken Legs by Sophie Anderson
In this imaginative story, a young girl lives in a magical, traveling house with her grandmother. As the girl sets out on a wild adventure to discover her destiny, she encounters ghosts, family secrets, and a parallel world. Buy it here.
Middle Grade Horror Fiction
Coraline by Neil Gaiman
This is a creepy tale about a young girl who discovers a parallel world hidden behind a door in her new house. With a mix of horror, fantasy, and dark magic, this middle grade novel is a thrilling read for young teens. Buy it here.
The Witches by Roald Dahl
This classic features a young girl who must save the world from the Grand High Witch. Filled with dark humor, suspense, and action, The Witches is a fun read from one of the greatest children's authors of all time. Buy it here.
Small Spaces by Katherine Arden
In this eerie novel, a young girl finds herself caught in a ghostly adventure when she uncovers a haunting story linked to her school. With spine-tingling moments and a suspenseful plot, Small Spaces is perfect for horror fans in middle school. Buy it here.
Doll Bones by Holly Black
A captivating ghost story, Doll Bones follows three friends on a quest to bury a mysterious bone china doll that seems to haunt their dreams. This creepy tale is ideal for middle grade readers who love a mix of adventure, friendship, and supernatural suspense. Buy it here.
Conclusion
Introducing horror stories to upper elementary and middle school children can be a positive experience.
By selecting age-appropriate books and discussing stories together, parents can foster a love for reading and creativity in their children.
More than that, encouraging a healthy interest in horror can help tweens develop a broader understanding of literature, enhance their critical thinking skills, and provide an exciting way for them to explore their imaginations.
Need more? Check out some of the other books we recommend...
Books about Friendship for Tweens
Our list of books about friendship for tweens can be a great way to teach your children social skills they'll use for the rest of their lives.
Graphic Novels for 5th graders
This list of fifteen graphic novels for 5th graders has a selection of books that may help to engage the struggling readers in your life.