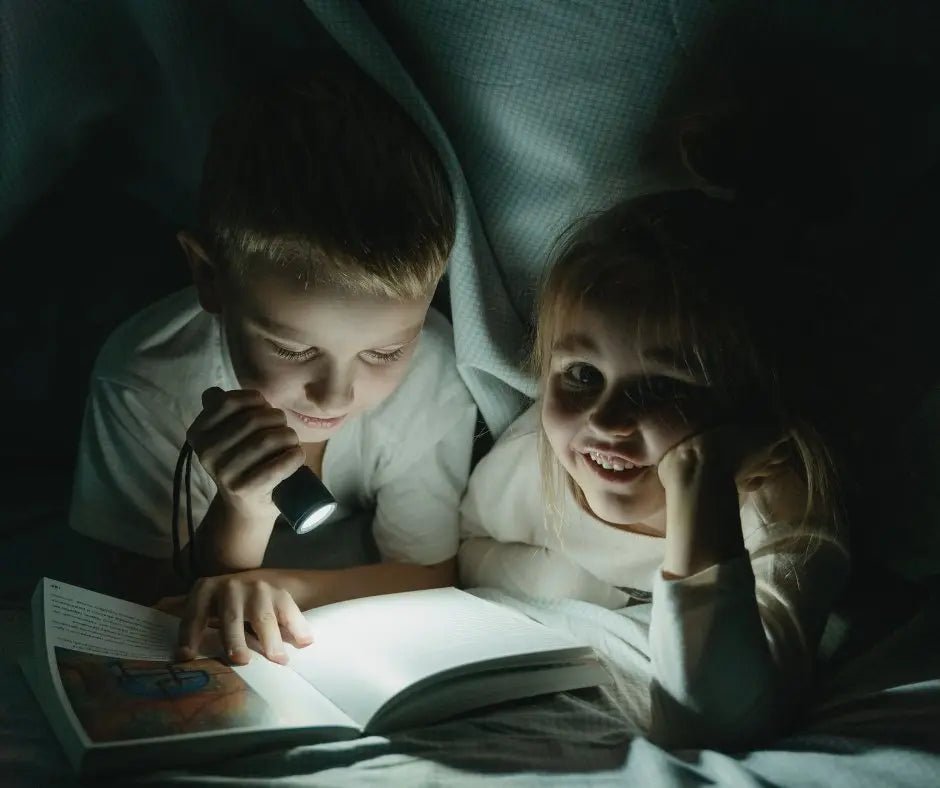 Scary books for 10 year olds to keep them reading all night!
Why recommend scary books for kids?
Because kids love a good scare.
Don't believe us? Ask your school's librarian. They'll be quick to tell you that kids seek out scary stories more than anything else.
In a world where it's becoming harder to motivate young readers to put down their phones, it may be time we give kids what they're asking for.
Are horror stories appropriate for my children?
While this is a question only parents can answer, it's important to note that horror is not a one size fits all genre. Publishers produce scary books every year that are age-appropriate for children at any reading level. In fact, acclaimed authors like Neil Gaiman and Roald Dahl have been terrifying children for a generation. Or was I the only kid in class who thought Charlie and the Chocolate Factory was super creepy?
But will my kids benefit from reading a scary story?
They will.
Just as kids like the thrill of a roller coaster, there's something about scary stories that appeals to our children. Even the most reluctant readers can't resist picking up a book if they think there's a good scare tucked within its pages. And while reading anything will improve a student's development, some unique benefits come when kids sit down with horror...
These books offer kids an opportunity to explore the boundaries of their comfort zone.
Good scary stories encourage curiosity of the unknown.
Kids strengthen their emotional control by being exposed to fear in a safe and controlled environment.
Walking with the main character of a scary story teaches kids that having the courage to face our fears can be rewarding.
Spooky scenes expose boys and girls to vivid descriptions they won't find in other chapter books. This will lead to improved fluency and reading comprehension skills.
Scary stories often introduce kids to moral dilemmas that force them to develop better judgment skills.
Why is GHOUL SCHOOL better than other scary stories written for kids?
This hi-lo book series uses proven publishing techniques to turn young readers into enthusiastic bookworms who can't wait for the next book to come out...
Creepy music and Hollywood sound effects highlight a streamable podcast that offers children a read-along experience they will never forget
Low page counts reduce intimidation, promising reluctant readers they won't spend the rest of their lives with their noses buried in a book
Big fonts let readers turn pages faster than normal, giving them the same dopamine hit they get when scrolling through their feeds
Age-appropriate horror improves focus as new scares lurk around every corner
Beautiful artwork on every page helps visual learners build context as the story unfolds
Unexpected endings inspire children to continue with the series so this positive experience becomes the foundation of a reading habit that lasts
Join countless teachers and parents who have watched even the most reluctant readers become avid fans.
Grab Ghoul School for the young readers in your life today!
More scary books to cast a spell over your children
While every parent must decide for themselves what is appropriate for their children, here are some age-appropriate titles we think serve as a great introduction to horror for young readers.
Scary Stories to Tell in the Dark
This classic series lives up to the hype.
Each volume in this three-book series contains a collection of short stories and urban legends. The creepy illustrations are enough to send a chill up anyone's spine and help bring these scary stories alive in a way that's become iconic.
Eerie Elementary
This spooky series lets children tag along with Sammy Fletcher, a curious fourth-grader who discovers strange and mysterious things happening in his school.
With the help of his friends, Sammy investigates spooky happenings and must use his problem-solving skills to save the day. Along the way, he meets quirky characters and learns important lessons about friendship, bravery, and following his heart.
Combining action-packed scenes with mystery and suspense, this is a series kids will have a hard time putting down.
In a Dark, Dark Room by Alvin Schwartz
A collection of spooky tales from around the world, some more than one hundred years old, the books in this series are certain to have at least a few bedtime frights your kids can enjoy.
Featuring ghosts, goblins, and other terrifying creatures, the author does a masterful job of being funny without sacrificing the sense of suspense. These yarns are perfect for sharing with a friend in a dark room on a gloomy night.
Goosebumps
With over 100 books available in this best-selling series, Goosebumps is a collection of action-packed scary stories that will keep your child busy if they decide they like the work of R.L. Stine.
Each book in this fun series follows the adventures of children as they battle monsters, ghosts, and other supernatural creatures. From haunted houses to evil garden gnomes, these thrilling stories are just enough to make your child's skin crawl without leaving them with feelings of dread. It's become the most popular children's horror franchise for a reason. Buy it here.
The Witches
A beloved novel by Roald Dahl, this scary story is about a young boy who discovers the Grand High Witch plans to turn all kids in England into mice. With its creepy characters and spooky plot, The Witches is a classic adventure filled with suspense and humor. Buy it here.
House of Fear: Attack of the Killer Snowmen and other stories
With creepy illustrations, this collection of comic book stories is perfect for reluctant readers who prefer their scares to be visual.
A great graphic novel for kids, this one is loaded with a variety of child-friendly scares. Snow giants, an evil tooth fairy, swamp monsters, and more! They're all waiting to send your children diving beneath the covers.
The Graveyard Book
After his family is mysteriously murdered, Nobody finds himself adopted by the ghouls, ghosts, and other strange creatures that inhabit a nearby graveyard. But as Nobody grows older, he eventually learns a sinister force threatens both his newfound home and the world beyond. The Graveyard Book is an enchanting story that will appeal to readers of all ages. Filled with mystery, humor, and adventure, it's a masterful work that went on to win the Newberry Medal.
Cabinet of Curiosities
A collection of eerie, mysterious, intriguing, and very short short stories presented by the cabinet's esteemed Curators, otherwise known as acclaimed authors Stefan Bachmann, Katherine Catmull, Claire Legrand, and Emma Trevayne.
The Dollhouse Murders
A creepy story of two sisters who discover an old dollhouse in their aunt's attic that contains clues to unsolved murders from long ago. With the help of their next-door neighbor, they set out to solve the mysteries and protect their family from danger. Along the way, they uncover secrets and explore their relationships with each other and their aunt. Blending elements of mystery, suspense, and family drama, The Dollhouse Murders is a gripping read that will delight readers who enjoy stories about haunted places. Buy it here.
Coraline
Described as a "ghost story for all ages," this is another classic from the mind of Neil Gaiman. Follow the adventures of Coraline Jones, an adventurous girl who discovers a mysterious door that leads to an alternate universe, one that is a twisted reflection of her own run by the overbearing Other Mother who wants to keep Coraline as her own. Buy it here.
Dollbones
A spine-tingling middle-grade novel about three friends who embark on an adventure to fulfill a promise made by Abby's grandmother to keep the evil forces sin their town from rising again. Buy it here.
Only if you Dare by Josh Allen
A terrifying collection of short stories that proves even everyday objects in our life can turn against us. From a mysterious microwave oven to a threatening board game to a snowman who refuses to melt in the spring, this book is loaded with stories that will leave kids scared of more than the dark. Buy it here.
More to come!
Of course, be sure to check back with Boosted Books as we will be publishing a wide range of scary books for tweens as we expand our publishing slate.